Planning a trip around New Zealand? Downloading a New Zealand camping app can make your holiday easier and save you money. It can also help you avoid a fine for camping in the wrong place. There are three apps to choose from:  CamperMate, Camping NZ and WikiCamps – but which one is the best? Check out the reviews below.

CamperMate
On the face of it, CamperMate would appear to be the best. It's the easiest to use, it looks the prettiest and, like the others, it's free. Its information filters are excellent: both simple and useful. The colour-coded icons telling you at a glance how much a particular site costs, (green for free, blue for cheap, purple for expensive,) and what kind of vehicles are permitted there are great.
The information it gives on individual campsites, however, is sporadic in quality and not as comprehensive as one would like. It would be nice to be able to see at a glance how good a particular campsite is, without having to scroll through all the reviews. A few more pictures would also be nice, but such is the nature of an app that relies on its users to keep adding information. For a free app, the information is actually very good.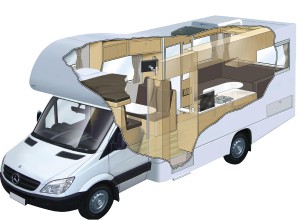 I really like CamperMate's viewing options. Points of interest can be seen in either list form or map form, and the map switches easily between simple or satellite style. CamperMate can also be used offline without having to download the maps you want first. This is important. There will be many times when you're driving around New Zealand when you won't have access to Wi-Fi or mobile reception.
Where CamperMate excels above the other New Zealand camping apps is in its filtration options. The range of information is great while remaining simple. As well as the expected information on campgrounds, dump stations, i-Sites and tourist attractions, CamperMate can you show a myriad of other useful things including road warnings, police stations and public showers – divided into hot and cold! This feature alone is reason to recommend CamperMate. Just get it anyway – it's free.
Camping NZ
Camping NZ is the 'official' New Zealand camping app, so you can be fairly confident that its information is trustworthy. It doesn't have the range of filters that CamperMate does, but its individual campsite information is far superior, making it easy to find exactly what you need and, if required, book ahead.
Like CamperMate, the Camping NZ app offers reviews for individual campsites. Camping NZ's way of displaying its reviews, however, is better. Each campsite has a percentage bar across the top of its information, based on its reviews, showing at a glance how good the campsite is. You can also see at a glance whether a particular campsite is free, cheap, averagely priced or expensive.
The Camping NZ app tutorial is quick and easy. It is recommended that you download all the maps you need when you have Wi-Fi access, so you can use them offline on your travels. The Rankers Respect NZ Map, which is what the app uses, is available online for free. You may as well use it to try before you buy.
WikiCamps
WikiCamps, of course, works the same way as other wikis. Like CamperMate, it relies on its users to generate its content. That content, however, is far less reliable than CamperMate's. Considering that, what advantages does WikiCamps have over CamperMate?
You can download maps for offline use. You can view points of interest either directly on the map or in a list. You can choose what style of map you want… Yes, this all sounds familiar… But what does WikiCamps have that the other New Zealand camping apps don't? The answer is simple: LOTS OF FEATURES.
WikiCamps has features coming out of its ears! It has a compass, a camping check list, a world time zone clock, a satellite finder, a chat forum, a weather forecast, the ability to filter points of interest by direction and distance… All it's missing is a corkscrew and a nail file. The thing is, though, you don't really need all these features.
The list of filters is also immense. There are so many different symbols that it can be a little overwhelming, and it's hard to remember what each one means. The filters are relatively confusing to select as well. The app does have tutorials – in the form of YouTube videos. A lot can be said for keeping things simple.
If I were you, I'd get Camping NZ, and possibly CamperMate as well. Why not, if they
'
re both free? WikiCamps has more features, but is less simple to use, and the others have all the features you need anyway. Plus WikiCamps isn't as good for actual campsite information, which is what the app's for in the first place. Yeah. Camping NZ is the best.
Hiring Campervans in New Zealand
Freedom Camping in New Zealand
Buy a Campervan in New Zealand
Article by Abigail Simpson, author of POMS AWAY! A British Immigrant's View of New Zealand
Follow Not_Australia