Auckland is a rapidly growing city. It's gone quite upmarket in the last few years and there are always exciting new things to see. Of course, you'll want to go to the Sky Tower, but there are heaps of awesome places around Auckland that don't cost a thing to visit. Here's a list of 16: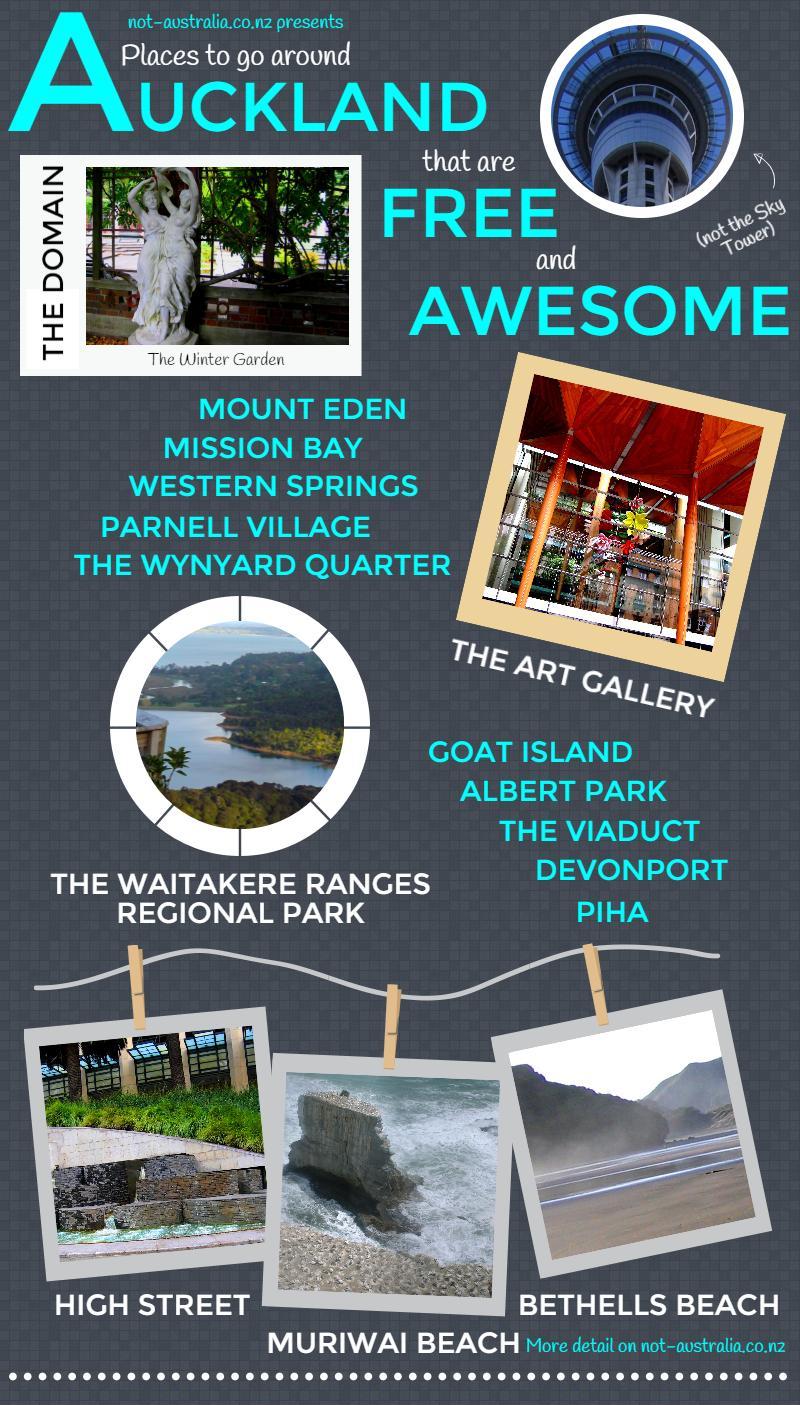 The Domain
The Auckland Domain is a huge park near the city centre with a commanding view of the iconic volcano, Rangitoto. It's home to the imposing War Memorial Museum, a cute little bush walk, a duck pond and, best of all, the beautiful-all-year-round Winter Garden.
Mount Eden
Mount Eden is a charming suburb close to the city centre, named for the volcano that dominates it. You can climb Mount Eden for some great views – it's only a short walk – and explore the village below.
Mission Bay
Mission Bay is probably the closest you'll get in New Zealand to an old-fashioned English seaside, except there's a volcano rising out of the sea. Walking along Mission Bay is a treat and there are lots of restaurants to choose from, as well as a pretty cool fountain.
Western Springs
Western Springs is a nice park with lots of ducks, located next to Auckland Zoo and the Museum of Transport and Technology. It's got a lake and a decent walk, and a playground that I'm young enough to remember is awesome.
Parnell Village
Parnell is Auckland's oldest suburb. In-between all the expensive cafes and boutiques are a few quite wonderful old buildings, and there's a gorgeous rose garden too.
The Wynyard Quarter
The Wynyard Quarter is an area of Auckland City that used to be ugly and industrial, but underwent a transformation for the 2011 Rugby World Cup. Now it's modern and exciting, with cool restaurants, a fantastic playground, a fish market and even an outdoor cinema, with films projected onto the side of an old silo.
The Art Gallery
The Auckland Art Gallery is an intriguing building that lies down a side street in the city centre. Free to enter, it exhibits art from local and international artists, and has a nice café.
Goat Island
Goat Island is a free marine reserve absolutely teeming with colourful fish – wade into the water and you ankles will be surrounded by them! It's a haven for snorkelling and – if you're VERY lucky – there will be dolphins around as well.
Albert Park
Albert Park is primarily a student hangout, being next to the University of Auckland campus. It's got a bandstand, a fountain and some pretty trees and statues – take a picnic.
The Viaduct
The Auckland Viaduct Basin is a vibrant place to walk around, full of great restaurants and bars. It's somewhere every visitor to Auckland needs to go, to understand just why it was called the City of Sails.
Devonport
Devonport is a suburb of Auckland billed as a historic village by the sea. It's got volcanic hills, Victorian villas, beaches, boutiques, galleries, gun emplacements and old bunkers – and you can get there by ferry.
Piha
Piha is a famous, black sand surfing beach on Auckland's wild west coast. You have to be careful swimming there, but Lion Rock is a stunning piece of scenery.
The Waitakere Ranges Regional Park
The Waitakere Ranges Regional Park is full of good bushwalks with awesome views over Auckland City and the rugged coastline. Head to the Arataki Visitor Centre to begin your adventure.
High Street
High Street is a long, narrow street in the city centre that runs parallel to Queen Street, Auckland's main drag. It's where all the high fashion shops are, but there's also a great bookshop and fountains.
Muriwai Beach
Muriwai is another rugged west coast beach, but this one is home to a massive colony of gannets. You can walk along the top of the cliff to view them – there are platforms – and there's a blowhole that's fun to watch as well.
Bethells Beach
Bethells Beach is so beautiful that it's constantly being used as a filming location, especially for the fantasy genre. Like Piha and Muriwai, it's a black sand beach on Auckland's west coast, but there's something different about Bethells – something mysterious…
So now you know what to do if you ever find yourself in Auckland – with or without money.
Article by Abigail Simpson
Follow Not_Australia