Taranaki's a great place for a holiday. It may not be as consistently breathtaking as some places in the South Island. It doesn't have lots of lakes and mountains. What it does have is one very stunning volcano.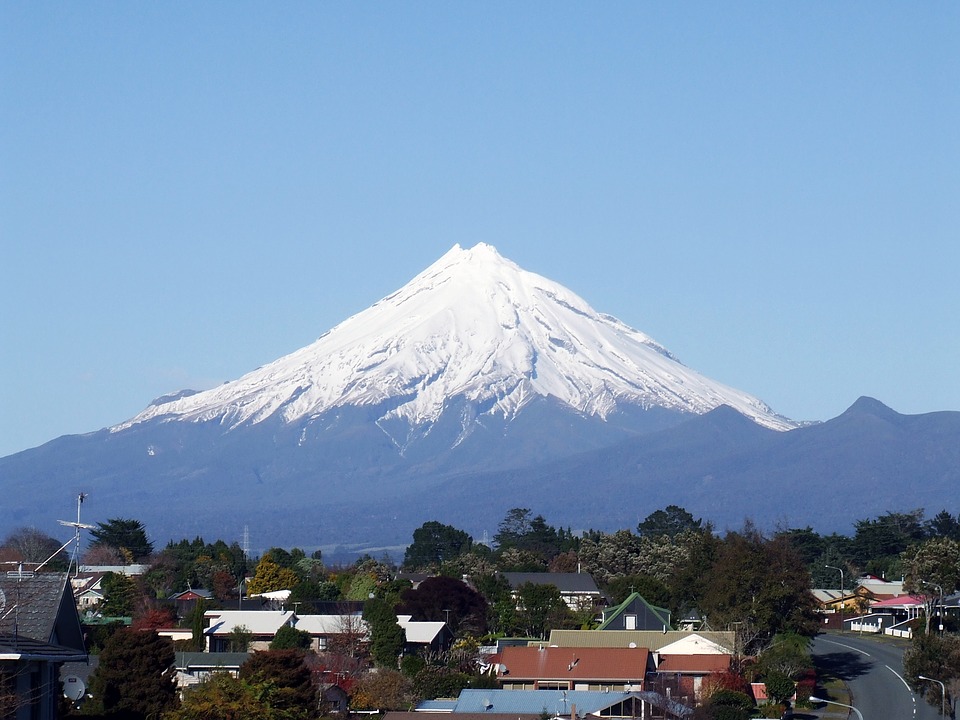 I went with my parents last summer. Taranaki's one of the few regions of New Zealand I hadn't explored, so I was happy to tag along. Mum and Dad picked me up in Hamilton and we began the long drive down. The LONG drive down.
Well, okay, it was only four hours, but it wasn't pleasant. There were a few lookout spots, but two of them had been spoilt by left behind rubbish. It was quite gross, really. At least the famous Three Sisters lookout was as nice as ever.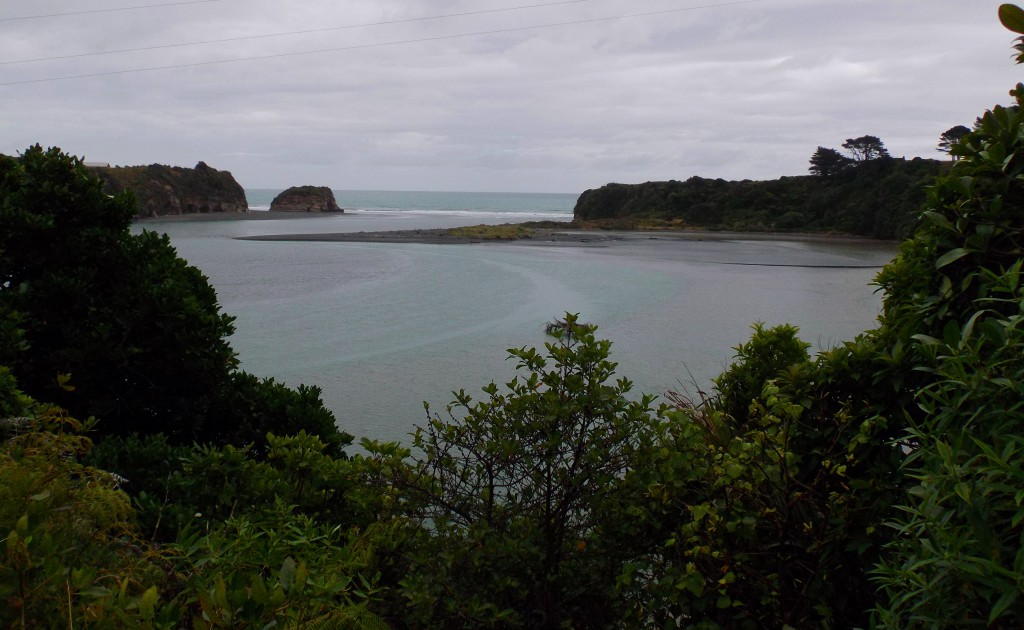 As we got closer to New Plymouth, Taranaki's main city, the road became more interesting. Cliffs and tunnels overlooking swaths of forest told us we'd definitely left the farmland of the Waikato behind. There was one place my dad wanted to stop before we reached New Plymouth, and that was Mike's Organic Brewery. It did not disappoint: the beer was tasty and the setting was surprisingly lovely.
We would be spending three nights in New Plymouth, at a motel a short walk from the city centre. We couldn't really see the volcano coming in, as it was covered in cloud. (At one point, we wondered if we'd leave Taranaki having never seen it properly!) It wasn't raining, though, which was lucky – we were in for a magical first night.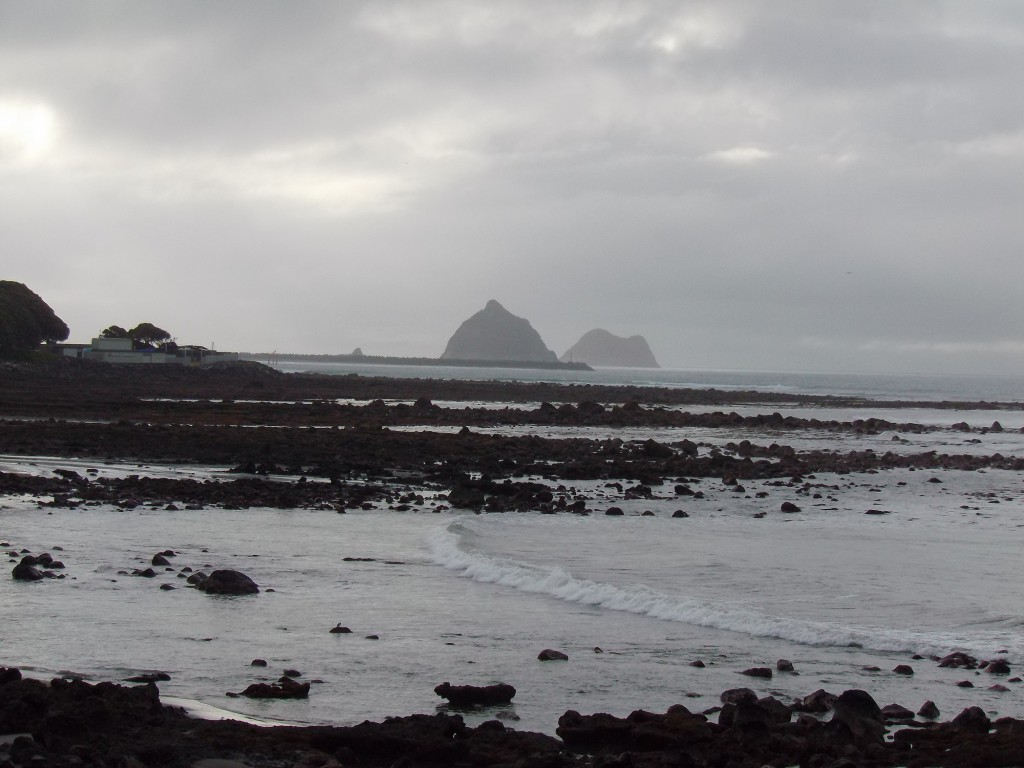 After an evening stroll along part of New Plymouth's Coastal Walkway, we went in search of a restaurant. We walked under a bridge, which was saved from feeling dodgy by the presence of gently echoing classical music. We were surprised to pass a tiny, Victorian, stone cottage nestled next to a large, modern building. It turned out to be Richmond Cottage, which was originally built in 1853, and is full of fascinating history.
The restaurant we ended up at was called Pankawalla, the most intriguingly decorated Indian restaurant I've ever dined in. The food was nice too. By the time we'd finished our meals, it was getting dark, which is what I'd been waiting for all day. It was time to make our way to Pukekura Park to see New Plymouth's famous Festival of Lights.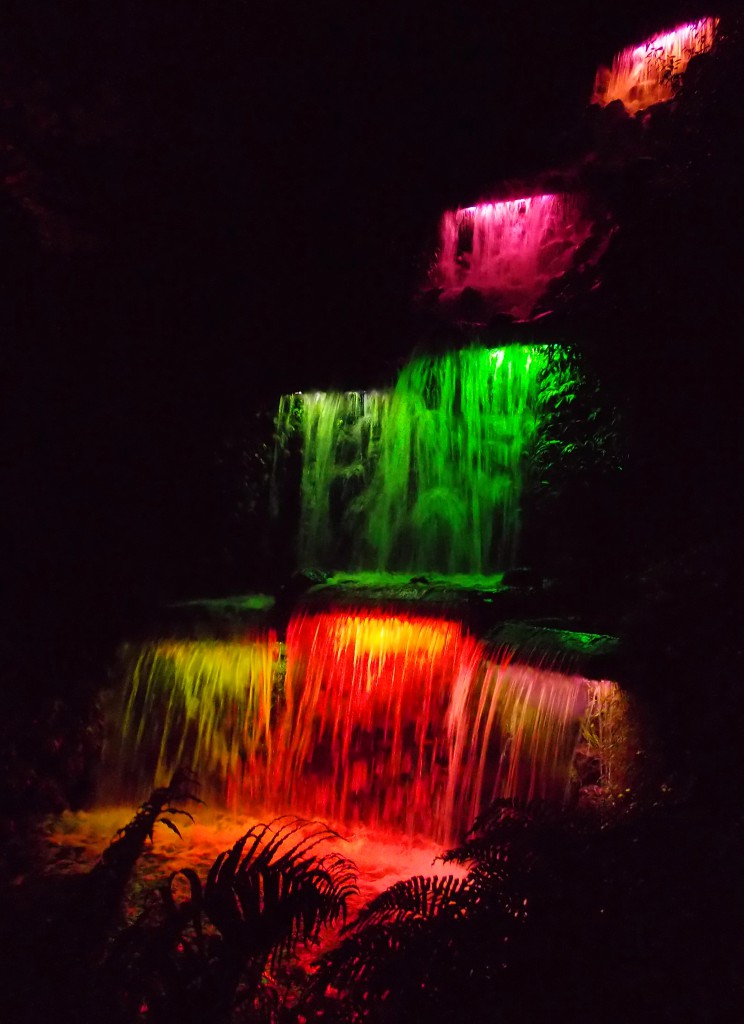 This was the reason we came to Taranaki. Every year, the light displays just get more impressive. From mid-December to late-January, Pukekura Park is transformed into a sort of glowing wonderland. Pukekura Park is wonderful enough by daylight, but this was just fantastic – especially the waterfall.
That was our first night in Taranaki – or, as some call it, "the Naki" – and were already glad we'd come. The next day, my dad wanted to go to Nigel Ogle's Tawhiti Museum, about an hour's drive south. I wasn't so keen; I thought an old place full of models – life-sized and miniatures – would be weird and boring. How wrong I was!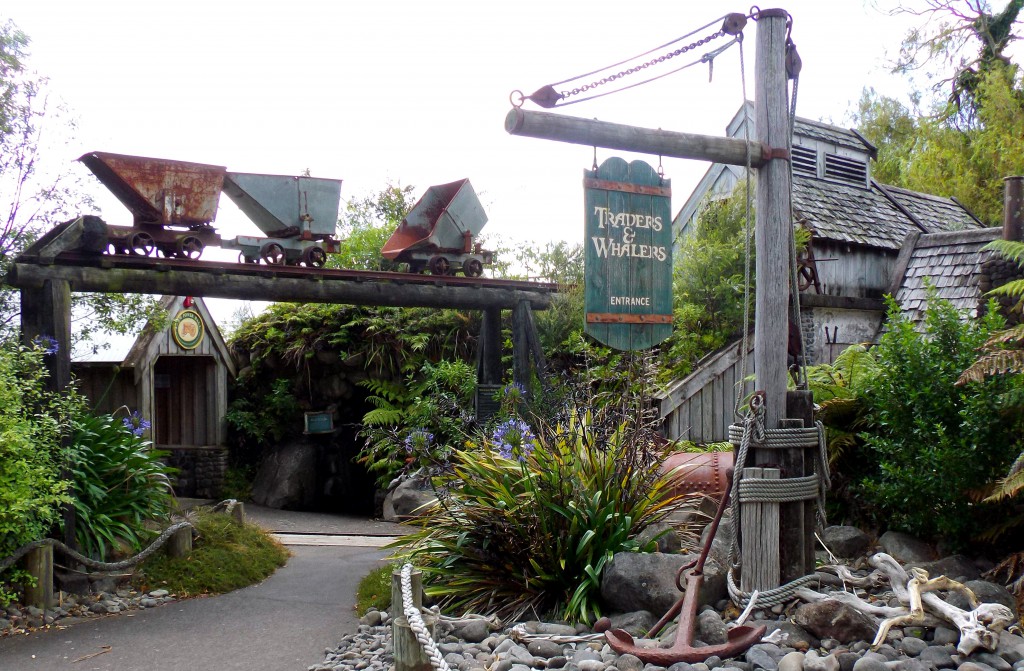 Seriously, do not leave Taranaki without visiting this place. It's possibly the best museum I've ever been to. I learned – and felt connected to – so much history. It was utterly enchanting, and there was even a ride!
After the museum, we drove to the foot of the volcano, Taranaki, or Mount Egmont. On the way, though, we stopped in Stratford, a town in which every street is named after a Shakespeare character! It has a Tudor-style clock tower, a glockenspiel – Romeo and Juliet pop out to recite lines on the hour. Even the public toilets have a Tudor flavour.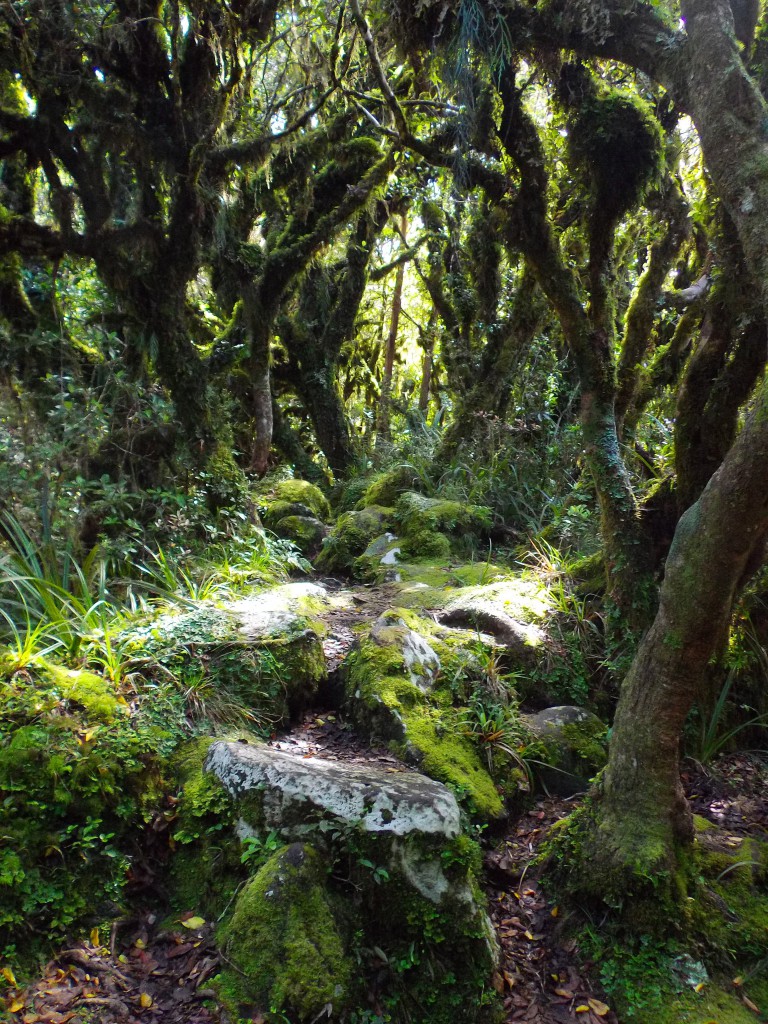 We didn't actually climb Taranaki – that's dangerous for amateurs – but there are plenty of beautiful walking tracks at its base. The forest surrounding the snow-capped mountain has quite a distinctive, fairytale look to it. It's called the Goblin Forest – and it's easy to see why. We did a two-hour loop track before sitting for ages at a lookout, waiting for the clouds to clear.
Our patience was rewarded. Eventually, the clouds did clear and we were treated to a first-class view of the peak. The view from the North Egmont Visitor Centre car park is bloody spectacular too. What's great is you can camp there for free if you've got a self-contained campervan hire.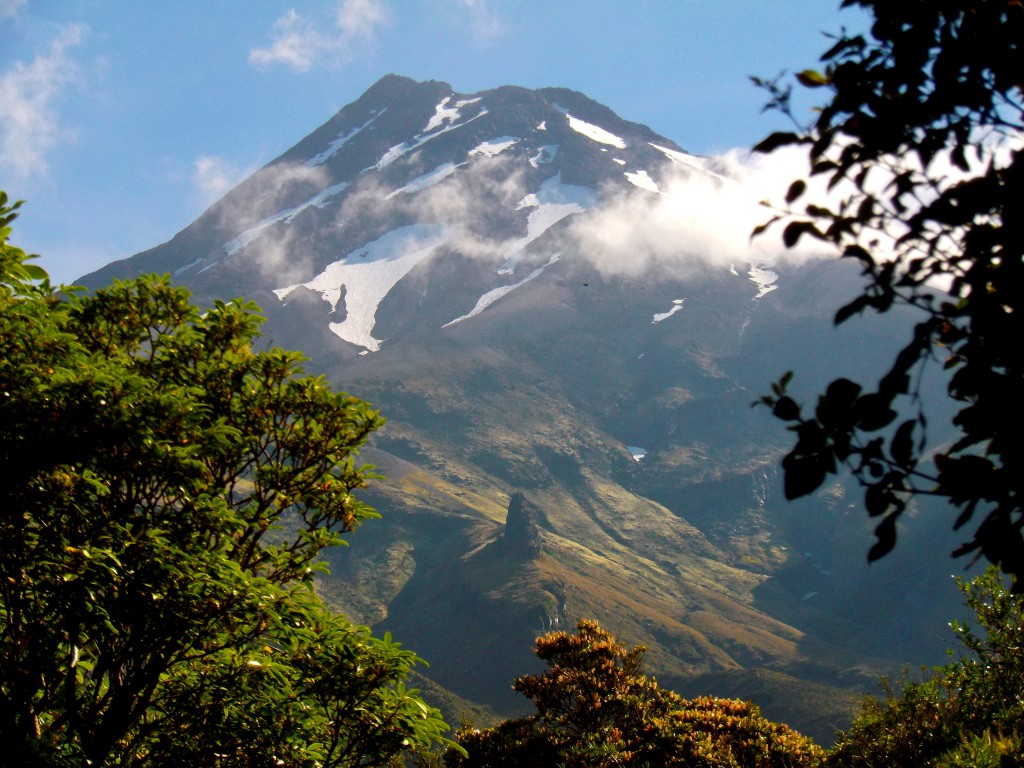 That evening, we dined at Arborio, which calls itself the best restaurant in New Plymouth. It was expensive and very cramped, with service so slow we didn't bother ordering dessert, but the food was delicious. Walking back to the motel, we came upon the striking façade of the Len Lye Centre, a famous art gallery. I now believe the best light in which to view the Len Lye Centre is the light of dusk.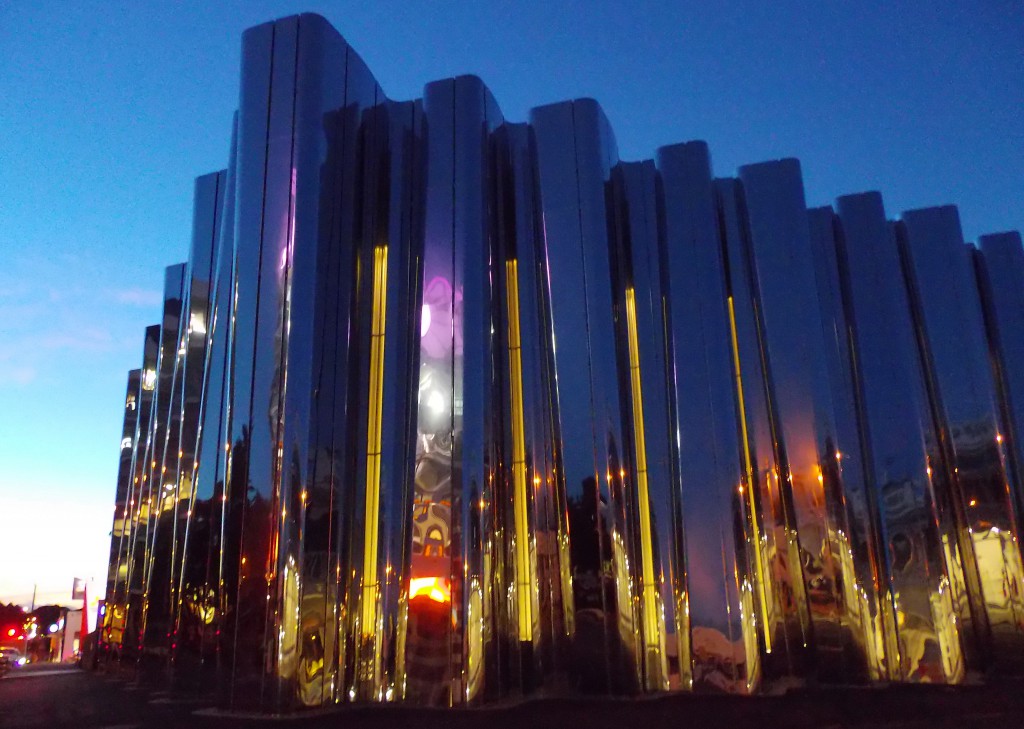 Across the road from the Len Lye Centre is New Plymouth's clock tower, which is definitely best viewed at night. It's a strange clock tower in that it's partially transparent and lights up all different colours. Worth seeing, anyway, even if you can't climb to the top, which is a pity. It might not be to everyone's taste, but it certainly gets marks for being different.
So that was our second night in Taranaki. Unfortunately, the Festival of Lights only goes until 11pm, so we didn't have time to walk round it again. We told ourselves we'd go again the next night, but we ended up getting distracted by something almost as good. First, though, we had a full day ahead.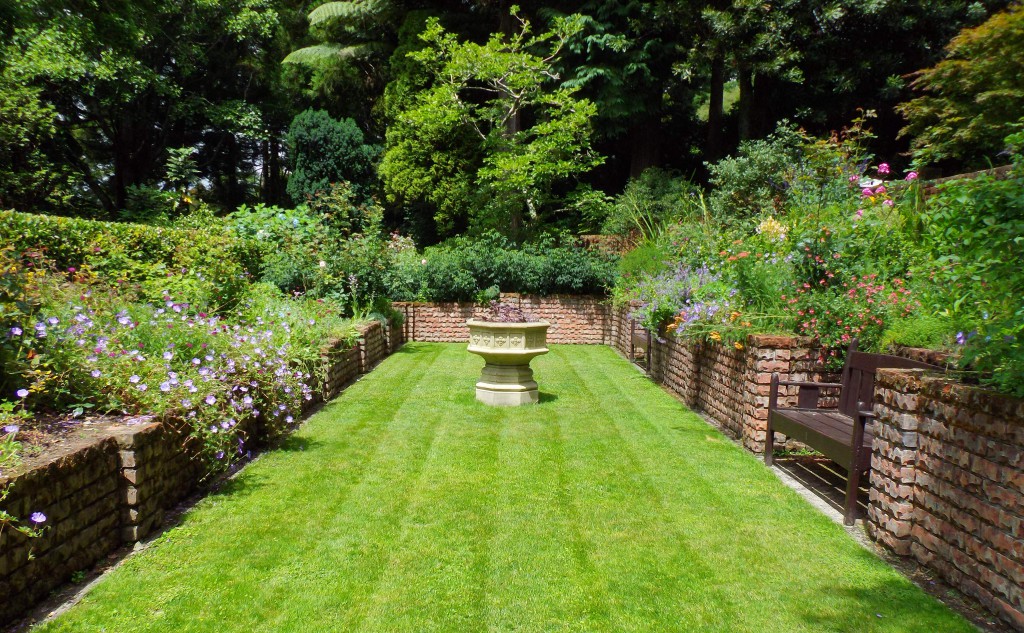 I'd spotted a brochure for Tupare, an old-fashioned, English-style house and garden just outside New Plymouth. My family likes gardens, but this one was especially memorable. We got there in time for a free tour of the house, which was cool, but the garden… simply gorgeous. Afterwards, we took a walk around another garden nearby, Pukeiti, which had a rather nice café.
Next up was the Govett-Brewster Art Gallery, of which the Len Lye Centre is a part. For me, the building itself was more interesting than the art inside it. Then it was time for dinner – we chose Pankawalla again, which tells you how much my parents liked it. For dessert, we found The Hour Glass, a swanky, cosy bar with a pair of Irish folk musicians playing – nice!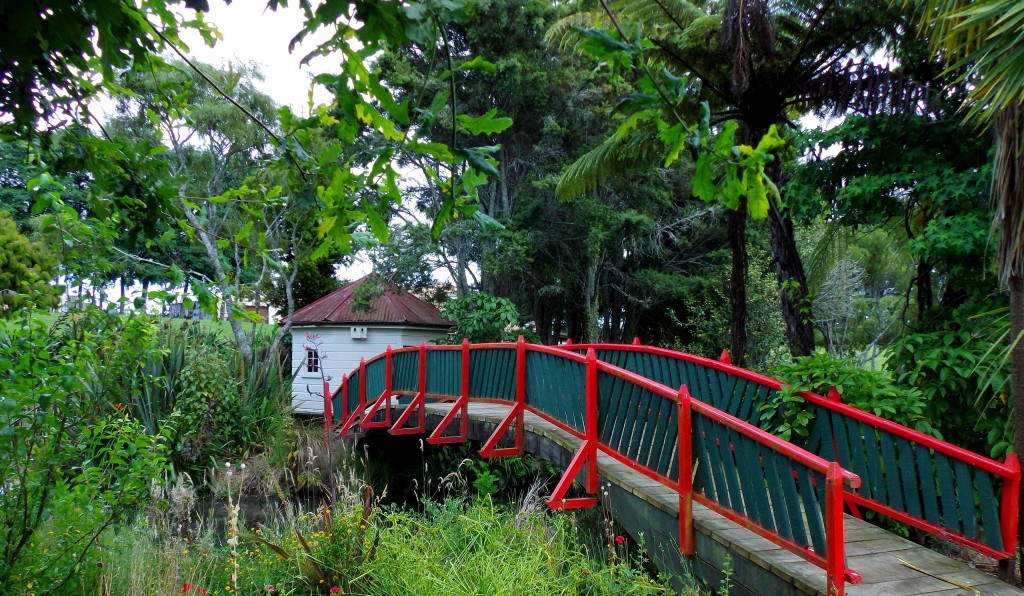 The atmosphere in the bar was so magical we failed once more to make it to the Festival of Lights. That was our last night, but at least we'd been to the festival, and it was everything we'd hope for. The next day, we drove back to Hamilton, but not before going on one last adventure. We started out at the Pioneer Village, just outside Stratford, and continued on to the Forgotten World Highway.
The Pioneer Village is great for giving you an idea of how Taranaki's Victorian settlers lived. You can even catch a ride on a little train that weaves its way between the authentic buildings. The Forgotten World Highway is rich in history as well, with many attractions along the way. Whatever you do, don't forget to fill up petrol before you set out!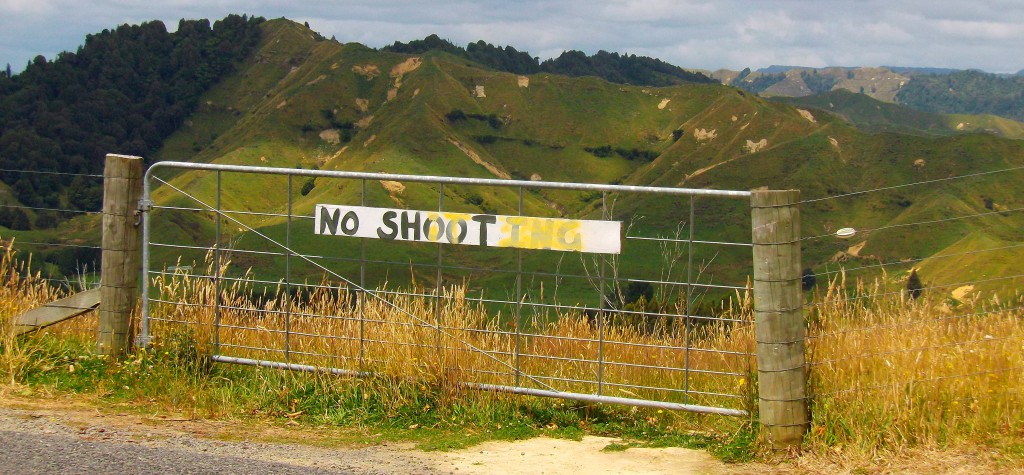 The Forgotten World Highway is, in my dad's words, a bloody good drive. The road is narrow, windy and sometimes a little scary. It takes three hours to reach the other end, if you don't stop – and not a petrol station in sight. There is, however, one pub in one tiny republic: the town of Whangmomona – they elected a goat president! Having a drink at that pub was one of the highlights of our Taranaki holiday; I certainly won't forget it.
Article by Abigail Simpson
Follow Not_Australia