Being a country made up of islands, New Zealand has thousands of beaches. Something like 70% of New Zealanders live within 5km of the coast. Every beach is beautiful in its own way, so choosing the 10 best is difficult. I've tended to go with the ones that have especially unique and interesting features. If you disagree with my choices, feel free to post your own candidates for New Zealand's best beaches below.

1) Cathedral Cove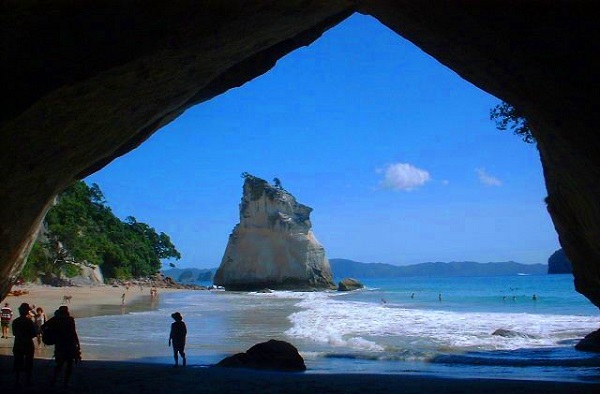 Every beach in New Zealand is beautiful, but the beauty of Cathedral Cove is on a different scale. Hidden away on the Coromandel Peninsula, accessible only by boat or a forty-five-minute bush walk, this is my favourite beach in the world. It's a stand-out location in The Chronicles of Narnia: Prince Caspian, but I went there long before they filmed it, and I knew then that it was a magical place. It's called Cathedral Cove because its most impressive feature is a big cave with a high ceiling that looks almost vaulted, a spectacular archway that truly resembles a natural cathedral – people have got married under it, it's that good. There are other dramatic rock formations as well, giant statues posing proudly in the crystal-blue water, and you can kayak around them and snorkel too – Cathedral Cove's a marine reserve, so there's plenty of colourful fish to see. If you're coming to New Zealand, put Cathedral Cove on your to-do list.
2) Koekohe Beach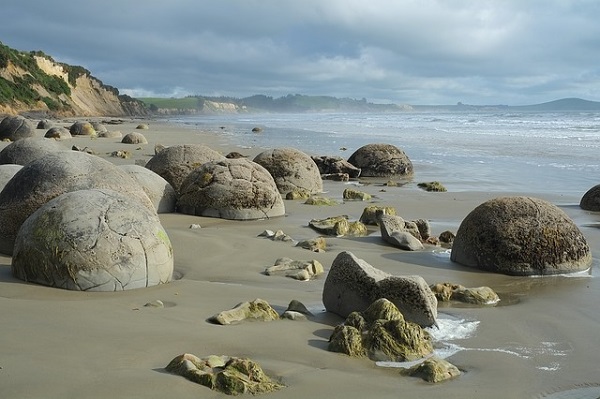 You've probably never heard of Koekohe Beach, but you might be familiar with the Moeraki Boulders. Koekohe Beach is where they are – mysterious, stone spheres dotted about the sand like modern art installations. It almost seems as though some alien placed them there, but they were formed naturally. Other than the boulders, I don't remember the beach being that remarkable – yeah, it was beautiful, but all New Zealand beaches are beautiful – so why have I named it as the second-best beach in the country? Simply because it's so different – you don't get the opportunity to see the Moeraki Boulders, one of the small wonders of the world, every day.
3) Mount Maunganui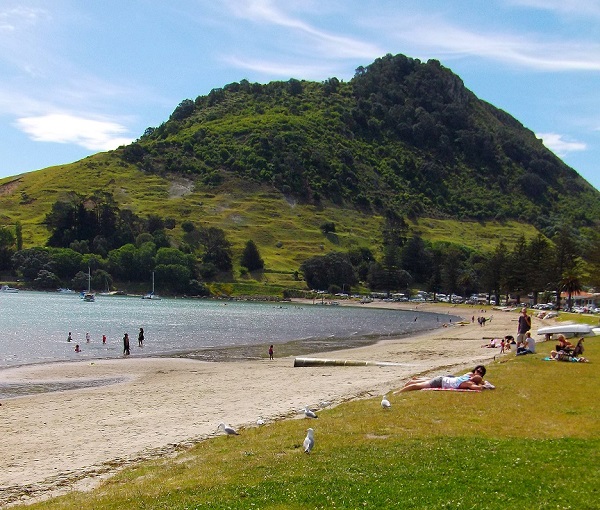 I am very familiar with the two brilliant beaches at the base of Mount Maunganui, as my parents happen to live in Tauranga. Mount Maunganui is a real resort with sunshine, shopping and an array of nice cafes and restaurants, bordered on either side by a beach and watched over by the impressive Mount. You can climb the Mount for dazzling views or take a more leisurely walk around it, or take a boat ride, during which you've got a good chance of seeing dolphins or killer whales. The main beach, facing out into the Bay of Plenty, is a golden surfing beach, whereas the beach on the other side, a minute's walk away at the Mount's foot, is calm, perfect for kayaking or paddling with small children. Mount Maunganui's a great place to stay if you're on holiday in New Zealand – as well as a few expensive hotels and motels, it's got a cheaper campground, which is right at the foot of the Mount and next to a complex of natural, salt water spa pools.
4) Hot Water Beach
Like Cathedral Cove, Hot Water Beach is on the Coromandel Peninsula – you could visit both on the same trip! It's an extremely popular beach, especially with tourists, but definitely one worth going to. Why? Underneath the beach is a system of geothermally heated water that travels up through the sand, so not only is the sea nice and warm when the tide's right, if you dig yourself a hole on the beach, it fills up with warm water – that's right, you can dig your own spa pool, so make sure you take a spade! It's nice sharing a pool with your family, although there will be lots of other families around you enjoying it too. In fact, it's best not to go at the height of summer. My parents did and they came back saying it was so crowded with people digging it looked like a labour camp!
5) Muriwai Beach

Muriwai Beach is special. An easy drive from the heart of Auckland City, it's a place of wild, rugged beauty, carpeted by the luxuriant, velvety-soft black sand that dominates the west coast of New Zealand. Like other west coast beaches, the surfing and fishing at Muriwai is awesome – as long as you take all the safety warnings seriously and swim between the flags, but Muriwai has two things that the others don't: an entrancing blowhole and a spectacular gannet colony. There are a couple of viewing platforms on the cliff above the beach and the sight of the multitude of nesting birds blew me away (even more than the blowhole!) Gannets are beautiful birds, like golden arrows when they dive into the sea, and their chicks are white and fluffy – it's a real privilege to see and it's completely free.
6) Ninety Mile Beach
In the far north of New Zealand, between Kaitaia and Cape Reinga, Ninety Mile Beach is a strong contender for the worst-named beach in the world – it's actually fifty-five miles long. How did this silly mistake occur? The story goes that there were these missionaries travelling up the beach, and they reckoned they covered an average of thirty miles a day, and it took them three days… so yeah. Ninety Mile Beach is famed for its sunsets and surfing, but that's not why I love it: it has all these big and fairly solid sand dunes, perfect for sliding down on a boogie board – it was so fun I didn't want to stop! You can also drive along the beach, because – for some reason – it's officially a public highway, and as such you have to stick to the road code, but let me tell you this now: DON'T drive your New Zealand campervan rental on it! Just don't.
7) Bethells Beach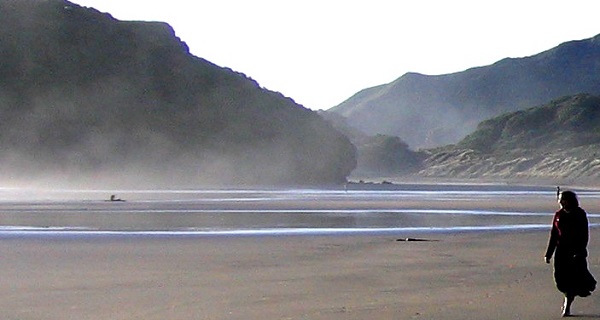 Also known as Te Henga, I'll always have a soft spot for Bethells Beach, a black ironsand beach on the west coast of Auckland. It's gorgeous in a mysterious, untamed way, with interesting dunes and rocks and caves. It's got the Waitakere Ranges nearby, which is a great place for bush walks, and a deep lake called Wainamu, which is lovely to swim in and, from it, you can walk to some pretty waterfalls. The beach itself is good for surfing and has plenty of features to explore – it isn't just a plain stretch of sand. It was used as a filming location for Xena: Warrior Princess and I'm not surprised: an appropriate word to describe the scenery is 'epic'.
8) Sandfly Bay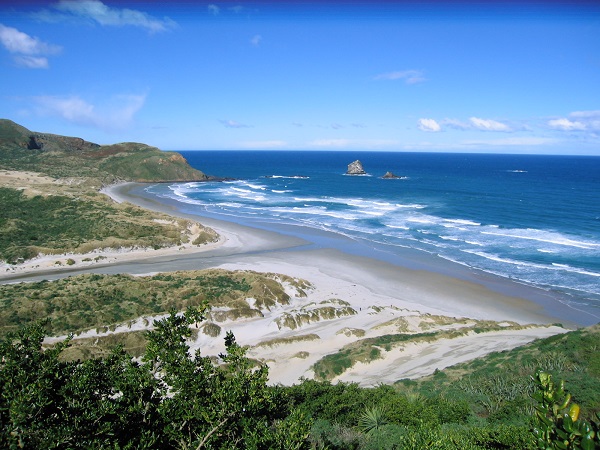 Sandfly Bay is on the Otago Peninsula. It is not, as many fear, named Sandfly Bay because it is plagued by the nasty, little, biting insects known as sandflies, but because the sand flies over the dunes. It's a beautiful sight, especially with the distinctive Lion's Head Rock rising from the waves, but what makes Sandfly Bay so special is its wildlife. You'll often see penguins and seals around. Indeed there's a Department of Conservation viewing hide that you can use for free, which is especially good for watching yellow-eyed penguins waddling up the beach at dusk.
9) Awhitu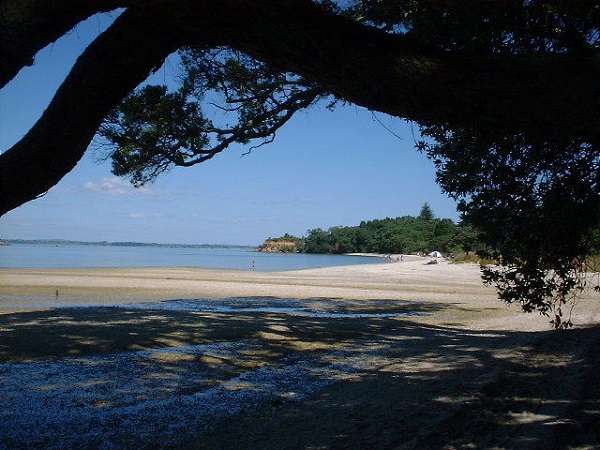 Awhitu is never mentioned on lists of New Zealand's best beaches, probably because only locals know about its existence, but go there and I guarantee you'll think it should be. I can't think of a more pleasant place for a picnic. At the edge of the sand stand some lovely pohutukawa trees, perfect for spreading a blanket under, and the water is always calm. There's a very small island with a single, distinctive tree that you can swim to and climb on, and boulders at the foot of a cliff to scramble over. Awhitu also has some interesting walks around – you can go and see the Brook Homestead, for example, built in the 1870s by a family of brave pioneers – and a couple of nice campgrounds.
10) Mission Bay
Mission Bay is a brilliant beach just fifteen minutes from downtown Auckland. It's a nice, old-fashioned seaside settlement with fish and chip shops, ice-cream parlours, a playground and a grand fountain. There's a whole row of restaurants to choose from, but the best thing you can do at Mission Bay is take an evening stroll along the sand. The view is dominated by Rangitoto, a stunning volcano surrounded by sea. There's also an aquarium close by called Kelly Tarlton's where you can actually get in an enclosure with a load of king penguins.
Article by Abigail Simpson, author of POMS AWAY! A British Immigrant's View of New Zealand
Links to CC Licences:
https://creativecommons.org/licenses/by-sa/2.0/
https://creativecommons.org/licenses/by-nc/2.0/
Follow Not_Australia