Rotorua is one of the top tourist destinations in New Zealand. A geothermal wonderland laced with sulphurous aromas, it's one of those places you just have to go. And it has a reputation for bleeding tourists dry. Many of its most popular attractions are horribly expensive, but it is possible to experience Rotorua cheaply. You just need to know where to go.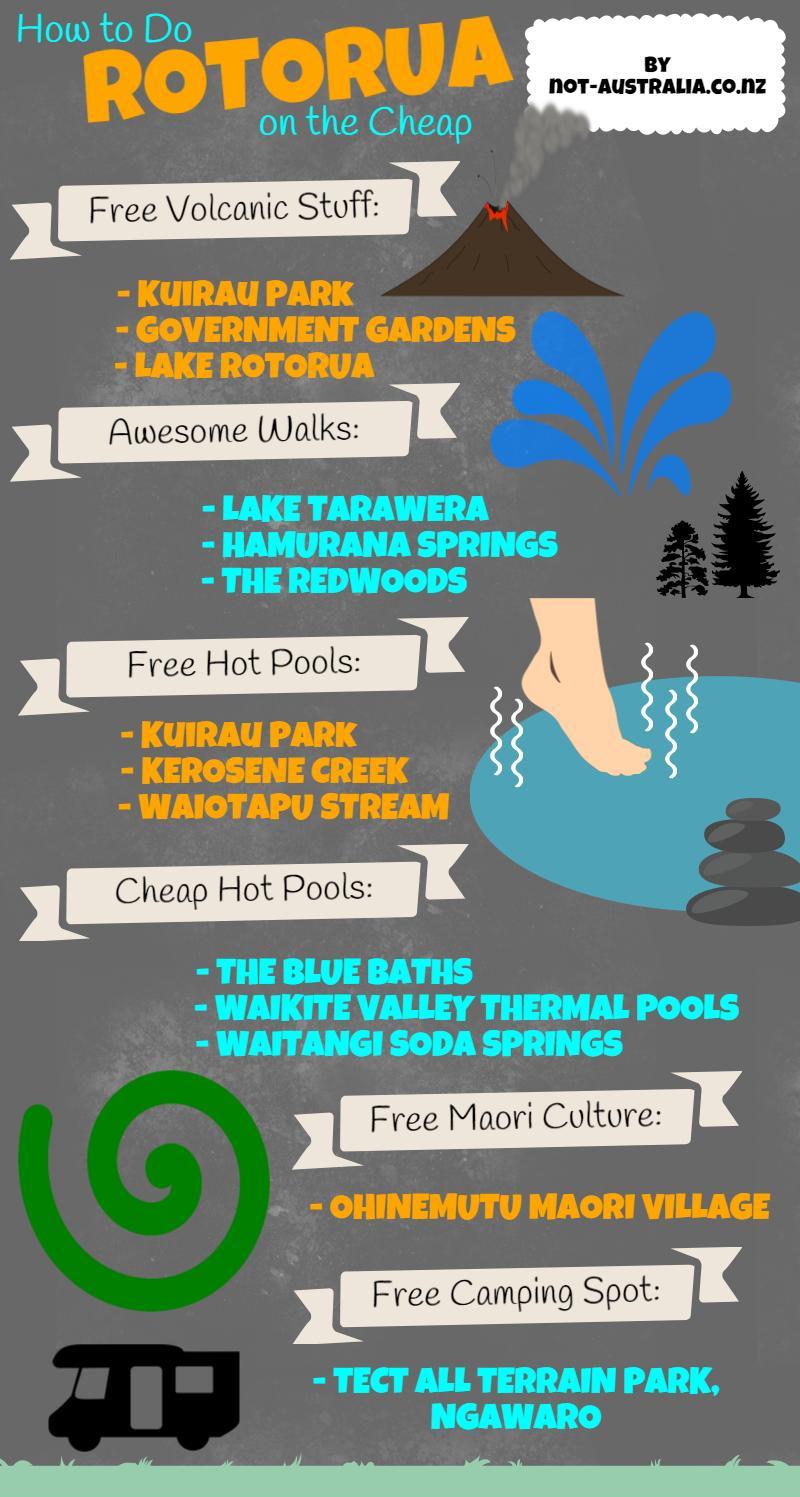 Free Volcanic Stuff
Kuirau Park
Kuirau Park has everything you could want: hot pools, mud pools, steam vents, a geyser, different coloured rocks, a playground, a market, nice flowers, a charming bridge and a warm lake that releases plumes of white vapour.
Government Gardens
Government Gardens is a beautiful park in the centre of the city, and on the very edge of Lake Rotorua. As well as hot pools, mud pools and other geothermal features, it's got some magnificent English-style gardens and some wonderful old-fashioned buildings. And even though it costs $20, the museum is well-worth visiting.
Lake Rotorua
A walk around the edge of Lake Rotorua reveals more free geothermal features. The water of the lake is warm in places and has a strange, powdery colour. There's an island in the middle, which serves as the setting of an old Maori love story.
Awesome Walks
Lake Tarawera
Lake Tarawera is an impressive sight. Across it, you can see what's left of Mount Tarawera – the volcano that blew its top in 1886, killing over 150 people. You can follow a bush trail around it, and more paths are currently under construction.
Hamurana Springs
Hamurana Springs is a recreation reserve about a quarter-of-an-hour's drive north-east of Rotorua. Walk around it and you'll come across a couple of very pretty springs, including the North Island's deepest natural freshwater spring. It's kind of magical and, of course, free to view.
The Redwoods
The Redwoods is an area of forest that's highly unusual for New Zealand – you don't usually see giant Californian Redwood trees in the bush! They were planted at the beginning of the twentieth century and make for a rather spectacular sight today. It's a great place for walkers of all ages and fitness levels.
Free Hot Pools
Kuirau Park
Oh, yes, Kuirau Park also has free geothermal spa pools you can soak your feet in, so remember to take a towel.
Kerosene Creek
Kerosene Creek is a stream with a little waterfall in the bush that's naturally heated by a hot spring bubbling beneath it. It's perfect for swimming in and perhaps New Zealand's most famous free hot pool.
Waiotapu Stream
Waiotapu Stream is another natural bathing area that used to be a local secret, but is now quite popular. It's not quite as pretty as Kerosene Creek, but it gets hotter.
Cheap Hot Pools
The Blue Baths
The Blue Baths are located in Government Gardens, in a gorgeous, Mediterranean-style, 1930's building. There's one big swimming pool and two spa pools. Experience Art Deco glamour as you bath – and it's cheaper than the more famous Polynesian Spa, costing only $11 to get in.
Waikite Valley Thermal Pools
Waikite Valley Thermal Pools has a greater range of pools than the Blue Baths and they're a campground as well. The private pools only cost $18 to use, which is pretty good.
Waitangi Soda Springs
Natural springs surrounded by bush and only $8 to get in. They're half-an-hour's drive out of Rotorua.
Free Maori Culture
Ohinemutu Maori Village
Now a suburb of Rotorua, the Maori village of Ohinemutu rests directly upon the shore of the lake. It's charming to walk around, which you can do for free. You get to see an exquisitely carved marae and an absolutely lovely church, which has a beautiful window: a picture of Jesus wearing a Maori cloak, and because of the position of the window he appears to be walking upon the lake's surface!
Free Camping Spot
TECT All Terrain Park, Ngawaro
This is actually quite a nice spot for camping, especially as it's free. It's a 30-minute drive out of Rotorua, but there aren't any free camping spots in the city itself. If you've got a self-contained campervan hire you can also park in the Equestrian Sub Hub.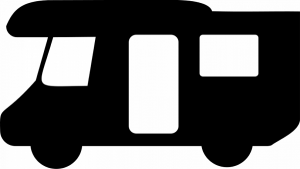 Article by Abigail Simpson, author of POMS AWAY! A British Immigrant's View of New Zealand
Follow Not_Australia