Bulls (yes, actually) is a small New Zealand town that turns everything into a pun. Seriously. Its slogan is A Town Like No Udder.
The information centre is labelled INFORM-A-BULL. The toilets are labelled RELIEVE-A-BULL. You get the idea.
Almost every building has its pun, but can you match the puns to the buildings? Test your friends! Answers below.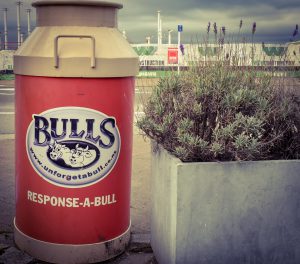 BANK-A-BULL
FORGIVE-A-BULL
CONST-A-BULL
READ-A-BULL
FASHION-A-BULL
MEMOR-A-BULL
CURE-A-BULL
SATISFI-A-BULL
DELECT-A-BULL
ANIMAL HOSPIT-A-BULL
PARK-A-BULL
SOCI-A-BULL
RESTOCK-A-BULL
EXTINGUISH-A-BULL
ADJUST-A-BULL
ANSWERS
BANK-A-BULL = bank
FORGIVE-A-BULL = church
CONST-A-BULL = police station
READ-A-BULL = library
FASHION-A-BULL = clothes shop
MEMOR-A-BULL = museum
CURE-A-BULL = doctors
SATISFI-A-BULL = café
DELECT-A-BULL = another café
ANIMAL HOSPIT-A-BULL = vets
PARK-A-BULL = car park
SOCI-A-BULL = town hall
RESTOCK-A-BULL = supermarket
EXTINGUISH-A-BULL = fire station
ADJUST-A-BULL = chiropractors
Follow Not_Australia