New Zealand's the best place in the world for a campervan holiday. It has so many beautiful spots in which to spend the night, and so many of these are free. Here are ten of New Zealand's greatest overnight campervan parking sites, starting at the top of the North Island and moving down to the bottom of the South Island. I hope it helps you in the planning of your trip.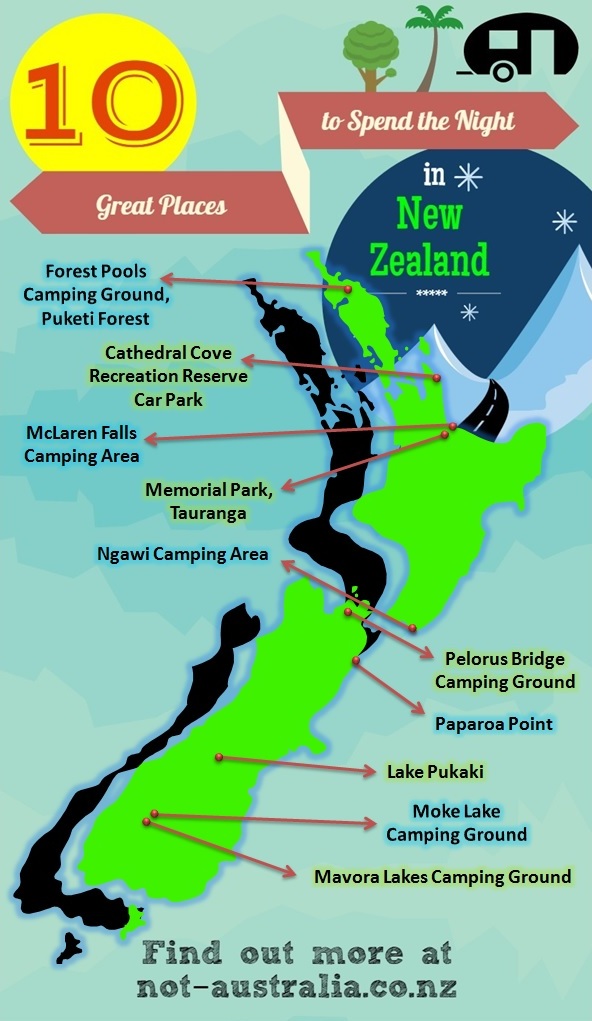 1) Forest Pools Camping Ground
Nestled on the edge of the majestic Puketi Forest in Northland, Forest Pools is a free campground run by New Zealand's Department of Conservation. You don't have to book, although you can only stay one night and the toilets aren't that nice. However, the surroundings are gorgeous. The site is right next to the Waipapa River, which is perfect for swimming in, and Puketi Forest is the most beautiful forest I have ever had the pleasure of walking through.
The Department of Conservation, or DOC, runs heaps of campgrounds around the country, and they're often both the cheapest and the best options available. There are four different grades of DOC campground, ranging from $15 per adult per night, to free. Be on the lookout for them on your travels.
2) Cathedral Cove Recreation Reserve Car Park
I think that Cathedral Cove is the best beach in New Zealand. Its dramatic geological structures, golden sand and crystal-blue water make it a place of outstanding natural beauty that every visitor to New Zealand should see. Overlooking it is a car park in which you can spend up to four nights for free, but only if you have a self-contained campervan like this one. You have to get in quick though – there are only four spots available and you can't book.
3) McLaren Falls Camping Area
Situated in the Bay of Plenty, close to the small city of Tauranga, is an absolute haven of a campground. McLaren Falls Park is home to forest, fields, a gorgeous lake, a spectacular waterfall, friendly wildlife, free-to-use barbecues and a nice café. There's an animal park next-door and, after dusk, the magical sight of glowworms. The amazing thing is that it's only $5 per adult to camp there, and children camp for free. You can stay up to three nights without having to book, and there are toilets. I love swimming at McLaren Falls. To make the most of it, don't go at the end of a dry summer.
4) Memorial Park
If you want to stay in the city of Tauranga itself, there's no better place than Memorial Park. There are three spots for self-contained campervans in the car park. It's free, you don't have to book, and you can stay for two nights. Memorial Park is right on a beach. It's got an awesome playground, a fountain, a swimming pool, free barbecues, crazy golf, and a miniature train you can ride with tracks that weave through the playground. You simply must go, especially if you have kids.
5) Ngawi Camping Area
There's a campground at Cape Palliser, at the very bottom of the North Island, in which you can stay for twenty-one nights for free, without having to book. As well as toilets, it has a sea view – you can even see the mountains rising from the South Island opposite. The Ngawi Camping Area is a gem. It's near to a seal colony and a lighthouse, and is only two hours or so from Wellington.
6) Pelorus Bridge Camping Ground
We sail now from the North Island to the Marlborough region of the South Island, which you can do in a campervan if you book a Cook Strait ferry crossing. One of the best campgrounds around here is the DOC-run Pelorus Bridge Camping Ground. It's the most expensive campsite on this list, but still very reasonable at $12 per adult per night, and $6 per child per night, with infants being free. (Those are just the summer prices. In winter it's even cheaper.) It has powered campervan sites, toilets, hot showers, a kitchen, a shop, a café and, best of all, it's located at the side of the stunning Pelorus River, which, as well as being wonderful to swim in, was where they filmed the barrel bit in The Hobbit: The Desolation of Smaug. Of course, being so wonderful, this campground is very popular and you absolutely have to book.
7) Paparoa Point
If you're passing through Kaikoura on your New Zealand campervan trip, there's a fantastic spot to park up for the night for free at Paparoa Point. There are no toilets there, which is why only self-contained vehicles are allowed, but you don't have to book ahead. You can just rock up and see if there's room left. What's great about this spot is it's right on the edge of sea, so you've got the sound of the waves, but, most importantly, it's so close to a colony of seals that you're in danger of stepping on one!
8) Lake Pukaki
The free overnight self-contained campervan parking spot on the shore of Lake Pukaki has no facilities to its name, but it's possibly the best place to spend the night in New Zealand. You don't have to book, but you do have to get there fast. If you do, you'll be treated to the best view you'll ever see. Towering over the turquoise water is Mount Cook, New Zealand's highest peak. Pukaki is so breathtaking in its beauty that Peter Jackson used it as Tolkien's Long Lake in The Hobbit trilogy. Even if you're not interested in seeing all of New Zealand's Lord of the Rings locations, you just have to see this.
9) Moke Lake Camping Ground
If you're looking for somewhere to camp around Queenstown that's cheap and incredibly beautiful, try Moke Lake Camping Ground. For $6 a night, ($3 for children and free for infants,) you can park your campervan beside a mirror-like lake surrounded by mountains. The toilet's not too flash, but you don't have to book.
10) Mavora Lakes Camping Ground
Mavora Lakes Camping Ground is in New Zealand's Southland region. It's situated in a valley beside a lake, and costs the same as the Moke Lake Camping Ground above. It has more than twenty sites available, as well as barbecues and designated fire spots. A nice walking track starts near the campsite, which goes down the Mararoa River and around the South Mavora Lake, and there's lots of other things to do in the area as well. The landscape is just lovely: lakes, mountains and tussock grassland – pure nature. Make sure you take insect repellent.
So we've come to end of the list. You can easily find other great places to spend the night in New Zealand if you use this map. It doesn't just tell you where every single campground in New Zealand is, it tells you how much they cost, what facilities they have, whether or not you have to book, and what other campers think of them. It makes planning a New Zealand campervan trip a lot less hassle.
What's your favourite New Zealand camping spot?
Tell us in the comments section below.

Article by Abigail Simpson, author of POMS AWAY! A British Immigrant's View of New Zealand
Follow Not_Australia